With the Fourth of July still ringing in our ears, I thought it high time I put up some great reads to make the rest of your summer sizzle. A couple of these books are from May, but you don't want to spend your summer reading time without including them. The Ghost Fields by Elly Griffiths, Come to Harm by Catriona McPherson, and Burnt River by Karin Salvalaggio were May reads that brought me into summer with a bang. With a huge interruption in my reading in June, I am going to have to backtrack a bit on that month, as I had some ARCs that I couldn't wait to get to coming out this Tuesday, July 7th. Lori Rader-Day's Little Pretty Things and Lucy Burdette's Fatal Reservations will hit the shelves this first full week of June, and readers are in for a treat. I'm posting the reviews of these five books so that those needing/wanting great books to include in their vacation packing will know that I've read them and highly recommend them. I'm also including a list of books that I'm going to try to catch up on this summer and those still to come out that I'm excited about reading, plus a list of books published this year that I thoroughly enjoyed. So, there really is no lack of reading material for your summer pleasure. First the reviews:
May Publication Reviews for Summer Reading
Come to Harm
by
Catriona McPherson
My rating:
5 of 5 stars
I was on edge during the entire reading of Catriona McPherson's Come to Harm. I just knew at any moment the ax, so to speak, was going to fall. Kudos to this brilliant author for creating this suspenseful atmosphere, where the reader steps carefully along with Keiko, the main character, into the dark secrets of Painchton, Scotland. There are some comments I want to make, but it would be a disservice to new readers to ease the tension that winds one up reading this story. I will say that there are a number of possible suspects in a number of possible scenarios of wrong doing.
Keiko Nishisato has arrived in Painchton, Scotland to attend university in Edingburgh to work on her PhD. She has a scholarship and is being sponsored by the Painchton traders and given a free apartment for three years. It's all almost to good to be true, and Keiko begins to suspect that maybe that's exactly what it is. Everyone is extremely friendly and eager to help her settle in, but there seems to be a hidden agenda that Keiko can't seem to crack. She slowly acclimates herself to new customs and new food in this home six thousand miles away from Tokyo. And, oh, the food is plentiful, with all the merchants wanting to feed her and teach her about traditional Scottish foods. Of course, Keiko's PhD original subject matter deals with food, so the residents are more than happy to help. Then, the apartment that Keiko has been given is above the butcher shop, and she becomes friends with the two Poole sons who work in their family's shop. Only their mother, Mrs. Poole, keeps her distance from Keiko and doesn't join in the town's enthusiastic welcome. As Keiko digs in to work on her studies, she feels more and more that there information is being intentionally withheld from her and people might not be who they seem. With several girls having left Painchton in a rather abrupt manner, Keiko begins to worry that it's urgent for her to discover why they left.
Come to Harm is yet another great read from Catriona McPherson. A dark thriller, it will keep you on guard and give you the gasp you're waiting for.

The Ghost Fields
by
Elly Griffiths
My rating:
5 of 5 stars
2013 was one of my best reading years ever. It was the year that I discovered Elly Griffiths' Ruth Galloway series and got to read the first five Ruth Galloway novels one right after the other. It was a blissful reading spring that year. But, once you're up to speed in a series, there is the yearly wait for the next book, and in a favorite series such as this one by Elly Griffiths, it's a hard wait. Once again, it was worth the wait. The Ghost Fields brought to life those characters I missed so much. Archeologist/professor/ Dr.Ruth Galloway, DCI Harry Nelson, Cathbad the Druid, Ruth's daughter Kate, DS Judy Johnson, DS David Clough/Cloughie, American academic/TV presenter Frank Barker, and even Phil Trent, Ruth's weasel boss. These characters have been developed with
When the remains of a man, later to be identified as those of a member of a prominent family named Blackstock, are unearthed inside an American WWII plane in Norfolk , Dr. Ruth Galloway is called in by DCI Harry Nelson to help discover the chain of events leading to the dead man's death and subsequent placement in the plane, as her first pronouncement is that the victim had been shot in the head and couldn't possibly be the pilot. Thus begins an investigation into the death of Fred Blackstock, originally thought to have died as a part of an American flight crew in the waters off of Norfolk. The connection to what are called the "ghost fields" in the area is a step back into the days of WWII when there were American airfields established in Norfolk.
DCI Nelson has his work cut out for him in dealing with the Blackstock family members who remain at Blackstock Manor, as buried secrets of missing family members and order of inheritance must be sorted. To further frustrate Nelson is the arrival of a television company that is doing a film on the American ghost fields with the focus being on Fred Blackstock who early in his life relocated to America and ironically ended up dying so near his British ancestral home as a part of the American forces. As well as the professional frustration, there is the added personal distraction with the American academic Frank Barker, who will narrate the film. Frank and Ruth have a past together, but before that Nelson and Ruth had a past, and there are a lot of emotions running amok. When another present day murder occurs, the urgency to solve the mysteries of the past is full on.
Griffiths gives us the intensity that always accompanies her stories, as dark secrets come undone and twists of fates surface. There is never a lull in the flow of action and suspense. The author masterfully lets the reader know that danger is right around the corner, but we are wonderfully surprised with it when it strikes. The interplay of the characters and the growth of relationships and understandings throughout the series is a thing of beauty to watch. Ruth Galloway is strong and competent, but she is human, and human have their frailties, too. She is one of my absolute favorite fictional characters. This book in the series is rather a crossroads for Ruth's personal life, and readers will be grateful for Ruth confronting some of her feelings for others.
Fans of Elly Griffiths and this series are going to be most thrilled with this well-plotted mystery that answers so many questions on so many fronts.
Burnt River
by
Karin Salvalaggio
My rating:
5 of 5 stars
When you've read the first book in a series and loved it, there is great anticipation and some worry about the second book and its continued excellence. Last year, Bone Dust White by Karin Salvalaggio was the author's debut novel, a fact that I found extraordinary due to its complex array of story and characters. The main character, Detective Macy Greeley, is eight months pregnant and unmarried when the story begins. Who starts the story of someone when she's eight months pregnant? Well, Karin Salvalaggio does and does it brilliantly. I stated at the time that Macy Greeley is a promise of layers to come. So, we come to book #2, Burnt River, and Macy, with her flaws, strengths, and struggles becomes more whole, more solid, more fantastic to the readers. Second book jitters for the reader evaporate. Like its title suggests, this book (and this series) is on fire.
We catch up with Macy eighteen months after the birth of her son, Luke. She has been sent by her boss, State Police Captain Ray Davidson, to Wilmington Creek in northern Montana where a veteran of the Afghanistan wars has been murdered. Macy isn't happy to be leaving her home in Helena and her son, and her personal relationship with Davidson continues to be a tangled web of promises and let downs. However, if Maggie is confused about her personal life, she is the consummate state police detective, dedicated to uncovering the intricacies of murder. John Dalton, the recently returned Afghanistan veteran, seems an unlikely victim of a dark alley homicide, but secrets can obscure motives, and John had secrets that his sister Jessie and friends Dylan and Tyler are desperately trying keep hidden. With the area experiencing an especially harsh heat wave and wildfires flaming, Police Chief Aiden Marsh already has his hands full, but he proves invaluable to Macy in her pursuit of local knowledge and connections. As the heat intensifies from the temperature, the wildfires, and the investigation, Macy starts piecing together confusion into answers, but will she arrive at those answers in time to prevent more loss.
Thank you, Karin Salvalaggio for providing me with a book that I didn't want to end and ensuring that the Macy Greeley series is the real thing in outstanding mystery fiction. The only request I have now is to please write book #3 like a bat out of hell. Please!
Out July 7th Reviews
Little Pretty Things
by
Lori Rader-Day
My rating:
5 of 5 stars
Can success or failure in high school continue to define a person ten years down the road? In Lori Rader-Day's latest novel, Little Pretty Things, Juliet Townsend seems forever stuck in the fallout from coming in second, never the winner or the one who receives the accolades and the rewards of being first. Juliet has settled for less because she has never had more. Working in a one-star motel on the edge of her small town Midway, Juliet herself admits that "(She) hadn't moved on." It was typical of Midway, where people seem to fit the name, where people acquiesced instead of chasing dreams. Juliet's one piece of salvation is her "little pretty things," which she keeps hidden away.
But, the past can often prove to be a catalyst as well as a prison. When Juliet's best friend from high school, Madeline Bell, shows up at the Mid-Night Motel, Juliet is less than thrilled to be reunited with the person who beat her in every track race throughout high school and kept Juliet from a coveted scholarship to a brighter future. Maddy is everything Juliet is not—well-dressed, well-traveled, polished, perfect face and hair, and wearing an enormous diamond engagement ring. Maddy had escaped Midway, and hadn't been in touch in the intervening decade. Maddy wants to reconnect with Juliet and talk to her about "some things," but Juliet brushes her off. And then, Juliet finds Maddy dead, murdered. Realizing that she is high on the suspect list of who killed Maddy, Juliet must revisit her and Maddy's past to uncover long kept secrets with far-reaching effects.
Little Pretty Things is my first Lori Rader-Day read, and I can hardly wait to go back and read The Black Hour, her award-winning debut. Her writing is brilliantly suspenseful, and she makes even the most ordinary of characters interesting. Little Pretty Things is a mystery, a self examination, a journey through time, and a cautionary tale. I was indeed fortunate to receive an ARC through Goodreads, and I can guarantee this book is going to collect nominations and awards, too.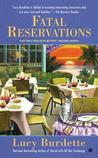 Fatal Reservations
by
Lucy Burdette
My rating:
5 of 5 stars
If the Key West Food Critic Mystery series was food, it would be Key Lime Cake prepared by the chef at Firefly Restaurant in Key West, a dessert that just happens to be the most delicious, refreshing piece of eating that one's mouth could savor. I truly come close to squealing with delight when each new book in this series deals with a different part of Key West that I have personally visited. But, you needn't have visited Key West to enjoy these tasty morsels, because author Lucy Burdette creates a vivid picture that ensconces you into the atmosphere and geography of this island paradise, a paradise full of colorful people/characters and a bit of murder on the side.
In Fatal Reservations, Haley Snow, the food critic at Key Zest magazine and character who seems to always find herself in the middle of police business, is getting used to a new boss, Palamina Wells, at the online magazine, while dating her other boss, Wally, there. Never a dull or uncomplicated moment with Haley, she is in the midst of gearing up to review Key West's new restaurant, a floating restaurant named For Goodness Sake, and she's keeping a watchful eye on her boathouse roommate, eighty-year-old Miss Gloria, who is a new volunteer at the Key West Cemetery. Attending a city commission meeting over the controversy of the new restaurant bypassing certain regulations to which other land restaurants had to adhere. The meeting also brings up another issue, the problem of allotting spaces to the Mallory Square Sunset Celebration performers. It's a heated situation, and with the identification of a body that just washed up in brackish water as one of the Mallory Square performers, everyone is on edge. When Haley's good friend whom she frequently consults, Lorenzo the tarot card-reader of Sunset Celebration fame, becomes the prime suspect in the murder, Haley must once again take matters into her own hands to try and help him. If only so much evidence didn't point to him as guilty.
Lucy Burdette has created a series that I have come to depend on as a guaranteed great read. The characters, the plots, the setting, the witty dialogue, and the food. Oh, the food! I consider these books my guide to eating in Key West, and I haven't been disappointed. And, then there is Haley's fabulous cooking, for which Lucy so generously provides recipes at the end of the story. It's with anticipation I open each new book, and with great joy I read each page. The latest adventurous mystery with the great title of Fatal Reservations will charm you and thrill you with the best Key West has to offer.
More Summer Reads:
June New Publications
Let Me Die in His Footsteps by Lori Roy
Language Arts by Stephanie Kallos
The Melody Lingers On by Mary Higgins Clark
The Mountain Story: A Novel by Lori Lansens
July New Publications
A Study in Death (Lady Darby #4) by Anna Lee Huber
A Deceptive Homecoming by Anna Loan-Wilsey
Go Set a Watchman by Harper Lee
August New Publications
Malice at the Palace (Lady Georgie #9) by Rhys Bowen
Devil's Bridge (Alexandra Cooper #17) by Linda Fairstein
The Nature of the Beast by Louise Penny
X by Sue Grafton
Books Published Earlier This Year I'm Still Trying To Catch Up On
Runaway by Peter May
A Fine Summer's Day by Charles Todd
Devil in the Deadline by LynDee Walker
The Orphan Choir by Sophie Hannah
Death of a Liar by M.C. Beaton
Canary by Duane Swierczynski
Leaving Berlin by Joseph Kanon
The Witch of Painted Sorrows by M.J. Rose
Inspector of the Dead by David Morrell
A Deadly Affair at Bobtail Ridge by Terry Shames
Where They Found Her by Kimberly McCreight
The Masque of a Murderer by Susanna Calkins
A God in Ruins by Kate Atkinson
Fatal Flame (Timothy Wilde #3) by Lyndsay Faye
Little Black Lies by Sharon (S.J.) Bolton
Books Published Earlier This Year I Loved, Reviewed By Me On Goodreads
As Chimney Sweepers Come to Dust by Alan Bradley
The Forgotten Girls by Sarah Blaedel
Dreaming Spies by Laurie R. King
Two Parts Bloody Murder by Jen J. Danna with Ann Vaderlaan
The Edge of Dreams by Rhys Bowen
Night Night, Sleep Tight by Hallie Ephron
Murder in Hindsight by Anne Cleeland
Deadly Desires at Honeychurch Hall by Hannah Dennison