Adding a few more books for Bouchercon 2016 attendees to consider as you fill out your Anthony Awards ballot, due April 30th. Today's selections include Malice at the Palace by Rhys Bowen from Berkley (eligible for Best Novel), Come to Harm by Catriona McPherson from Midnight Ink (eligible for Best Paperback Original), Fate of the Union by Max Collins and Matthew Clemens from Thomas & Mercer (eligible for Best Paperback Original), and Fatal Reservations by Lucy Burdette from NAL (eligible for Best Paperback Original).
Malice at the Palace by Rhys Bowen

My rating: 5 of 5 stars


The Lady Georgie series by Rhys Bowen is one of the most enjoyable reads I look forward to each year. I know when I open a Lady Georgie book that all the boxes will be ticked. Great characters, witty dialogue, fascinating history, intriguing settings, and a story that keeps me reading into the night/morning. Humor, history, mystery. I'm in reader heaven! Rhys Bowen writes like King Midas transformed; everything is gold.

For those multitude of fans who already follow the adventures and misadventures of Lady Georgie, you know that the books usually start with Georgie being between living suitable living arrangements and direction for her life. Unfortunately, as a part of the royal family, even if 35th removed from the crown, she has certain restrictions on what is acceptable and not for her path in life. In Malice at the Palace, Georgie has returned from her Hollywood adventure in America and is temporarily staying at her friend Belinda's Mews Cottage. But, Belinda unexpectantly returns and Georgie must find new digs. Discovering her brother Binky and his family are in residence in London, it appears that Georgie will have to move in with them, something she and her sister-in-law Fig both would like to avoid. And, as is often the case with Lady Georgie, the Queen's wishes intercede, and Georgie finds herself living at Kensington Palace as a companion for Prince George's bride-to-be, Princess Marina of Greece. With the wedding two weeks away, Georgie is to be Marina's guide and escort in London, showing off the best of the city and shopping for last minute trousseau items. In spite of the palace's haunted history, Georgie is looking forward to landing someplace where she doesn't have to worry about having no money.

Of course, with Lady Georgie, nothing ever goes in a straight line order. No sooner does Princess Marina touch down on English soil than a body turns up, discovered by Georgie right outside Kensington Palace. With Georgie practically stumbling upon the body when she's alone, the first order of business becomes secrecy, keeping the news from the Princess and the public. Georgie once again finds herself in the middle of a murder investigation, albeit one in which she must pretend doesn't exist. The royal family must be protected at all costs, and Georgie fears that cost may include the murderer getting away with the crime, as the murder victim is one of Prince George's former dalliances. But, Georgie is nothing if not persistent, and she is quite willing to do her own investigating, which can have illuminating results, but can also lead to deadly danger. And where is Darcy, the love of her life? Her exasperation with her beau is at its all-time high, and a crossroads of which direction the relationship will take is all too evident.

There is so much to love about this latest Lady Georgie book, and I feel like I say that about each one, which only means that each book offers a freshness of story that is captivating. The combination of mystery and history makes the story especially interesting to me, and the inclusion of the wedding of Prince George and Marina, with the sidebars of Prince David and Mrs. Simpson are seamlessly included in the fictional murder story. Recommending Malice at the Palace is to recommend a pleasure of a treasure.
Come to Harm by Catriona McPherson
My rating: 5 of 5 stars


I was on edge during the entire reading of Catriona McPherson's Come to Harm. I just knew at any moment the ax, so to speak, was going to fall. Kudos to this brilliant author for creating this suspenseful atmosphere, where the reader steps carefully along with Keiko, the main character, into the dark secrets of Painchton, Scotland. There are some comments I want to make, but it would be a disservice to new readers to ease the tension that winds one up reading this story. I will say that there are a number of possible suspects in a number of possible scenarios of wrong doing.

Keiko Nishisato has arrived in Painchton, Scotland to attend university in Edingburgh to work on her PhD. She has a scholarship and is being sponsored by the Painchton traders and given a free apartment for three years. It's all almost to good to be true, and Keiko begins to suspect that maybe that's exactly what it is. Everyone is extremely friendly and eager to help her settle in, but there seems to be a hidden agenda that Keiko can't seem to crack. She slowly acclimates herself to new customs and new food in this home six thousand miles away from Tokyo. And, oh, the food is plentiful, with all the merchants wanting to feed her and teach her about traditional Scottish foods. Of course, Keiko's PhD original subject matter deals with food, so the residents are more than happy to help. Then, the apartment that Keiko has been given is above the butcher shop, and she becomes friends with the two Poole sons who work in their family's shop. Only their mother, Mrs. Poole, keeps her distance from Keiko and doesn't join in the town's enthusiastic welcome. As Keiko digs in to work on her studies, she feels more and more that there information is being intentionally withheld from her and people might not be who they seem. With several girls having left Painchton in a rather abrupt manner, Keiko begins to worry that it's urgent for her to discover why they left.
Come to Harm is yet another great read from Catriona McPherson. A dark thriller, it will keep you on guard and give you the gasp you're waiting for.
Fate of the Union by Max Allan Collins

My rating: 5 of 5 stars


Political thrillers are not usually the first books I pick up in the crime genre, but when I do and the book is as great a read as Fate of the Union, I begin to wonder why my reticence. The action is full of the suspense that I crave in books, and the characters are wonderfully drawn, with interesting flaws and quirks. Max Collins and Matthew Clemens have certainly won me over with this second in their Joe Reeder series. I plan to quickly go back and pick up the first, Supreme Justice.

Joe Reeder is an ex-Secret Service agent, who has twice saved the lives of the leaders in the United States, one of those being the President. He has earned a stellar reputation and envied popularity rating, but he is dismissive of the accolades and more interested in running his successful security buiness, ABC Security, name chosen for its advantageous placement in the phone book. How does one create a leading character who is a hero and a great guy with an amazing sense of humor, an admired figure who doesn't take himself too seriously? Well, Collins and Clemens have created such a character, a blend of kick-ass awesome. Of course, once in the Secret Service, you become ensconced in a mind-set that stays with you, and if you're lucky, keeps you alive.

Reeder is what is loosely termed a consultant for the FBI's Special Situations Task Force, as well as running his successful security firm. He and the head of this force, FBI Special Agent Patti Rogers, worked together on the last case where he saved the life of a high-ranking official. In Fate of the Union, the officially labeled suicide of one of Reeder's former Secret Service colleagues and string of execution-style killings bring Reeder and Rogers together again. The connection of these separate events is buried deep in a conspiracy that requires the combined efforts of these two highly capable professionals, along with Roger's personally vetted task force. The stakes are high and the bodies are piling up, as a killer has his sights on a prize of enormous impact. And, of course, time is slipping away as fast as the killer. For Reeder and Rogers, they must be their most brilliant and most resourceful ever if they are to prevent the final act of a madman.

So glad that I expanded my reading comfort zone to include this amazing novel. The action is so well paced and the story is so compelling that a reader will immediately become fully engaged in this crisis for the nation. The characters and their dialogue, with an infusion of humor, are yet another reason to enjoy this book, and it doesn't hurt that it all takes place in the invigorating setting of Washington, D.C. A most satisfying read.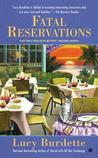 Fatal Reservations by Lucy Burdette

My rating: 5 of 5 stars


If the Key West Food Critic Mystery series was food, it would be Key Lime Cake prepared by the chef at Firefly Restaurant in Key West, a dessert that just happens to be the most delicious, refreshing piece of eating that one's mouth could savor. I truly come close to squealing with delight when each new book in this series deals with a different part of Key West that I have personally visited. But, you needn't have visited Key West to enjoy these tasty morsels, because author Lucy Burdette creates a vivid picture that ensconces you into the atmosphere and geography of this island paradise, a paradise full of colorful people/characters and a bit of murder on the side.

In Fatal Reservations, Haley Snow, the food critic at Key Zest magazine and character who seems to always find herself in the middle of police business, is getting used to a new boss, Palamina Wells, at the online magazine, while dating her other boss, Wally, there. Never a dull or uncomplicated moment with Haley, she is in the midst of gearing up to review Key West's new restaurant, a floating restaurant named For Goodness Sake, and she's keeping a watchful eye on her boathouse roommate, eighty-year-old Miss Gloria, who is a new volunteer at the Key West Cemetery. Attending a city commission meeting over the controversy of the new restaurant bypassing certain regulations to which other land restaurants had to adhere. The meeting also brings up another issue, the problem of allotting spaces to the Mallory Square Sunset Celebration performers. It's a heated situation, and with the identification of a body that just washed up in brackish water as one of the Mallory Square performers, everyone is on edge. When Haley's good friend whom she frequently consults, Lorenzo the tarot card-reader of Sunset Celebration fame, becomes the prime suspect in the murder, Haley must once again take matters into her own hands to try and help him. If only so much evidence didn't point to him as guilty.

Lucy Burdette has created a series that I have come to depend on as a guaranteed great read. The characters, the plots, the setting, the witty dialogue, and the food. Oh, the food! I consider these books my guide to eating in Key West, and I haven't been disappointed. And, then there is Haley's fabulous cooking, for which Lucy so generously provides recipes at the end of the story. It's with anticipation I open each new book, and with great joy I read each page. The latest adventurous mystery with the great title of Fatal Reservations will charm you and thrill you with the best Key West has to offer.