So, I'm still reading 2015 books, trying to catch up with some of the ones I want to consider for my nominating ballot for the Anthony Awards. Ballots are due April 30th, and I fear I won't get all the reading in that I'd like. But, I will never get in all the reading I'd like. And, in addition to reading for the nominations, I have a long list to read before Bouchercon in September. I keep thinking that one of these years, I won't have such a list for Bouchercon, that I might catch up, but that's the joy of reading, always hearing about authors that are new to you and scrambling to read a series and/or stand-alones by those authors. After I finish posting about the nominations, I plan to do posts on those authors with whom I'm hoping to become acquainted before rolling into New Orleans next fall.
Today's four books and authors for nominee consideration are No Other Darkness by Sarah Hillary from Headline Book Publishing (eligible for Best Paperback Original), A Deceptive Homecoming by Anna-Loan Wilsey from Kensington (eligible for Best Paperback Original), The Girl on the Train by Paula Hawkins from Riverhead Books (eligible for Best Novel), and Malice at the Palace by Rhys Bowen from Berkley (eligible for Best Novel).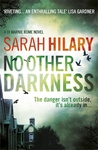 No Other Darkness by Sarah Hilary
My rating: 5 of 5 stars


It's usually a difficult read in crime/mystery when the victims are children, as it should be. I'm not quick to go there in my reading. However, Sarah Hilary develops the story with such care and respect for the deceased children that I didn't just want to read how their deaths came about and who was responsible, I needed to read it for the answers in finding justice for lives cut so tragically short. Hilary delves into the darkness that needs to be explored to find the answers readers need, darkness that can consume a mind and direct actions to unspeakable results. It is psychologically intense, with so many threads and clues and past lives that must be sorted, and sorted it will be, brilliantly. No Other Darkness is actually the second entry into the DI Marnie Rome series, but starting with the second book posed no problems in becoming fully engaged in the story and the characters.

In the city of London and its surrounding area, there are countless old tunnels, buildings, and underground shelters left behind by wars and earlier needs. It is in one such underground shelter that the bodies of two children are discovered, and DI Marnie Rome and her partner Noah Jake are called in to investigate. It's a challenging case, as four or five years have passed since the deaths of the children. A father of a family living in a fairly new housing area discovers the shelter and bodies as he's digging a garden. There is, of course, no identification, but the children are determined to be young boys. Rome has what seems like an impossible task before her, but she is tenacious, determined, and deliberate in piecing together a complete picture that joins past and present together, even if it means revisiting her own painful past and unresolved feelings.

The true genius of this book is that it goes beyond a murder mystery of investigation and solution. It is at its essence a story about the dynamics of relationships in a family, dealing with love, the good, and pain, the bad. What happens when a family reaches the breaking point? How do people survive the loss of family and love again?

There is no straight line to answers in this intricately plotted story. Lots of twists and turns and suspects who fit but then don't. It is an absolute unraveling of the past and present to see where they meet. The characters are so well developed, main characters and secondary ones. Marnie is a complex person, strong and vulnerable. I look forward to reading more background about her when I read the first book in the series. Noah's character is not just a sidekick to Marnie's story, but he has his own fascinating personal space and story. I'm not quite sure how Sarah Hilary gives the readers such a complete character with the different characters in this story, but it is a gift that adds great dimension and flavor to a mesmerizing plot.
A Deceptive Homecoming by Anna Loan-Wilsey

My rating: 5 of 5 stars


The fourth entry into the Hattie Davish Mystery series is one of the best reads I've had all year. No one does historical mystery fiction better than Anna Loan-Wilsey. She is simply superb at the research behind the books and masterful at folding it into brilliantly written stories with characters and descriptions that bring the 1890s alive for readers. And, the mid-1890s was a fascinating period in the history of the United States, a time of innovation and progress on the cusp of a new century. Reading the Hattie Davish series allows one to experience the excitement of the changing times while showing an appreciation and connection to the past. I am always thrilled to learn bits of history that Loan-Wilsey has pulled from the lesser known facts surrounding famous names and events from our country's past. As a traveling secretary with a meticulous eye for detail and a knack for solving crimes, Hattie Davish is a character who takes us on a journey of intriguing discovery.

In a Deceptive Homecoming, readers finally get to see where Hattie's life began, where she took form and purpose. She has returned to her hometown of St. Joseph, Missouri to attend the funeral of one of her best friend's father and to be of assistance and comfort. But it would seem that her friend, Virginia Hayward, doesn't welcome her aid or comfort concerning her father Frank's death. Hattie is at a loss to understand Virginia's demeanor, and becomes even more at odds with Virginia as Hattie begins to question the identity of the man in Frank Hayward's casket. Coming home has also brought a reunion with Mrs. Chaplin's School for Women, the place where Hattie became a skilled secretary and learned to fend for herself through her education. Always grateful for her experiences at the school, she can't help but become involved in the problems that are besieging her alma mater. Bizarre happenings and missing money at the school would appear to be separate from her problems with Virginia, but are they? And, as Hattie digs deeper into the mysteries surrounding her old friends, her own personal history comes back to haunt her. Hattie's search for the truth and possible murderer take her through the streets of a transformed St. Joseph to the horrors of a lunatic asylum. It's a treacherous trip down memory lane.

Anna Loan-Wilsey has now given readers four great multi-layered stories, full of history and suspense. With each book, I become more convinced that the 1890s is an amazing time in which to start a series about an independent, smart woman who, like the times, are moving forward and breaking barriers that once were thought impenetrable. I can't wait to see where this ingenious author takes us next.

The Girl on the Train by Paula Hawkins
My rating: 4 of 5 stars


I approach reading a book such as The Girl on the Train with all the hype surrounding it in a state of both excitement and trepidation. With promises that it's going to be one of the year's best books, I read the book with this expectation hovering over me. I really wanted to love it, to be able to proclaim my agreement with the horn tooters and prophets. It was interesting to see if I would fall in with those who proclaim its genius or those who failed to be smitten.

This one had me lingering in the land of suspended opinion for pretty much the first half of the book. I genuinely disliked all the characters and found the three major women narrators either weak or bitchy. However, there is one measure of a novel's effectiveness that cannot be denied. Did I need to keep reading to see what happens? Did I stay up late reading to fulfill that need as quickly as possible? The answers to both questions are "yes," so I have to conclude that the story is a compelling one, and the deeply flawed characters are paramount to the success of the plot. The whole crazy setup works, and the characters do evolve. Of course, the fact that I have a fascination with trains and a long standing curiosity about what is going on in houses that I pass either on a train or car enhanced the method in which the story unfolds. My voyeurism was born watching Rear Window, where watching the daily routines of neighbors proved chillingly exciting and deadly. Not surprisingly, Hawkins' book has been described as having Hitchcockian flair.

Rachel Watson is about as sad a sack as can be, and the only real interest she has in life is watching the lives of others out of the train window as she travels from a small suburb of London into the city itself. Alcoholism and obsession are the constants of her life, and moving on from a devastating divorce seems an elusive step for her. As a distraction from her pain and decline, Rachel has become fixated on one couple in particular during her daily commute and has named them Jason and Jess, the perfect couple. The train's signal stop enables Rachel to witness Jason and Jess having coffee on their back terrace in the mornings, and she becomes emotionally invested in the scene playing out before her. And, then Rachel's image of her perfect couple gets slammed by reality, as interactions Rachael witnesses in her train watching spill over into a drama of a missing woman. The often incoherent state of black out in which Rachel finds herself proves to land her right in the middle of this suburban drama as she strives to remember vital information. The police consider her an unreliable witness when she reports on what she's seen from her couple watching. As Rachel desperately searches for answers, the lines between lies and truth blur, and the tension of the story winds tighter and tighter.

Paula Hawkins uses three alternating narrators, three women at the heart of the story, with Rachel's voice being the prominent one. This approach allows the reader to understand how very little is as it seems. It works toward the climax of the different perspectives coming together in a chilling reveal. I started out stating that I didn't like the characters, meaning I wouldn't pick them as people to be in my life, but it doesn't mean that the characters didn't do their job well. While it won't be my favorite book of the year and isn't an "it" book for me, it was a good read that hit on my "Rear Window" sense of thrill.
Malice at the Palace by Rhys Bowen

My rating: 5 of 5 stars


The Lady Georgie series by Rhys Bowen is one of the most enjoyable reads I look forward to each year. I know when I open a Lady Georgie book that all the boxes will be ticked. Great characters, witty dialogue, fascinating history, intriguing settings, and a story that keeps me reading into the night/morning. Humor, history, mystery. I'm in reader heaven! Rhys Bowen writes like King Midas transformed; everything is gold.

For those multitude of fans who already follow the adventures and misadventures of Lady Georgie, you know that the books usually start with Georgie being between living suitable living arrangements and direction for her life. Unfortunately, as a part of the royal family, even if 35th removed from the crown, she has certain restrictions on what is acceptable and not for her path in life. In Malice at the Palace, Georgie has returned from her Hollywood adventure in America and is temporarily staying at her friend Belinda's Mews Cottage. But, Belinda unexpectantly returns and Georgie must find new digs. Discovering her brother Binky and his family are in residence in London, it appears that Georgie will have to move in with them, something she and her sister-in-law Fig both would like to avoid. And, as is often the case with Lady Georgie, the Queen's wishes intercede, and Georgie finds herself living at Kensington Palace as a companion for Prince George's bride-to-be, Princess Marina of Greece. With the wedding two weeks away, Georgie is to be Marina's guide and escort in London, showing off the best of the city and shopping for last minute trousseau items. In spite of the palace's haunted history, Georgie is looking forward to landing someplace where she doesn't have to worry about having no money.

Of course, with Lady Georgie, nothing ever goes in a straight line order. No sooner does Princess Marina touch down on English soil than a body turns up, discovered by Georgie right outside Kensington Palace. With Georgie practically stumbling upon the body when she's alone, the first order of business becomes secrecy, keeping the news from the Princess and the public. Georgie once again finds herself in the middle of a murder investigation, albeit one in which she must pretend doesn't exist. The royal family must be protected at all costs, and Georgie fears that cost may include the murderer getting away with the crime, as the murder victim is one of Prince George's former dalliances. But, Georgie is nothing if not persistent, and she is quite willing to do her own investigating, which can have illuminating results, but can also lead to deadly danger. And where is Darcy, the love of her life? Her exasperation with her beau is at its all-time high, and a crossroads of which direction the relationship will take is all too evident.

There is so much to love about this latest Lady Georgie book, and I feel like I say that about each one, which only means that each book offers a freshness of story that is captivating. The combination of mystery and history makes the story especially interesting to me, and the inclusion of the wedding of Prince George and Marina, with the sidebars of Prince David and Mrs. Simpson are seamlessly included in the fictional murder story. Recommending Malice at the Palace is to recommend a pleasure of a treasure.